World Meeting of Families (WMOF) 2018 Icon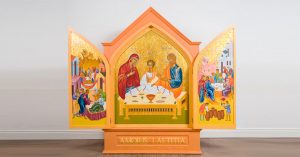 The Holy Family Icon Explained
The Angels on the Outside – This icon of the Holy Family is shaped a bit like a house with a double door. On the outside of each door there is an angel. Michael on the left, Gabriel on the right. We remember the prayer from our childhood. 'O angel of God, my guardian dear.' Angels represent God's desire to protect us, our home and our family. When we pray to the angels we pray for God's protection. The words at the bottom of the door mean 'The joy of Love' the message to us from Pope Francis about family.
The Holy Family at the Centre – When we open up the doors we see in the centre the Holy Family of Jesus, Mary and Joseph gathered around the table. They are sharing a meal and celebrating the Passover, a Jewish religious festival remembering God's goodness. Like all families they had experiences of joys and sorrows. They were once refugees in another country, fleeing the violence of King Herod. This reminds us that God is like a family, and that family is the place where the love of God is experienced through the love we have for one another.
Family stories from the Gospels at either side – On either side of the Holy Family there are images from the Gospels. The image on the left depicts a story from the Gospel of St Mark. Jesus brings back to life the daughter of a man called Jarius. The image on the right is from the Wedding Feast at Cana.
World Meeting of Families are seeking to hire for the following roles: Exhibition Sales Coordinator, Event Services and Logistics Coordinator – All job descriptions and information are available on their website: www.worldmeeting2018.ie/jobs/.
Official Family Prayer for World Meeting of Families 2018
God our Father,
We are brothers and sisters in Jesus your Son,
One family, in the Spirit of your love,
Make us patient and kind,
Gentle and generous,
Welcoming to those in need.
Help us to live your forgiveness and peace.
Protect all families with your loving care,
Especially those for whom we now pray:
 (pause and remember family members and others by name)
Increase our faith,
Strengthen our hope,
Keep us safe in your love,
Make us always grateful for the gift that we share,
This we ask through Christ our Lord,
Amen
Mary, mother and guide, pray for us.
Saint Joseph, father and protector, pray for us,
Saints Joachim and Anne, pray for us.
Saint Louis and Zélie Martin, Pray for us.